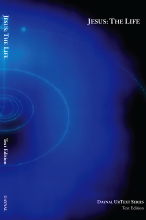 Jesus: The Life - Text Edition

by Anonymous

ISBN - 978-1-935187-03-5
Pubdate - TBA

USD Price - TBA
This unprecedented narrative of Jesus' life, based on records kept by a celestial being once assigned to the care of the apostle Andrew is challenging philosophers, scientists, and countless others.

The purpose of the Daynal UrText Series is to present to a critical audience the range, variety, and quality of work found in The Urantia Papers. All volumes in this series are published in complete and unabridged form using formats amenable to critical study.