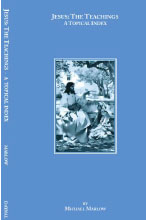 Jesus: The Teachings - A Topical Index

by Michael Marlow

ISBN - 978-0-9801209-7-4
Pubdate - TBA
USD Price - $20.00

Regarded as having taught the most to those with whom he spoke the least, nevertheless his words have informed the imagination of individuals from every world religion, and as well, those seemingly without a religion. In this volume, the 'teachings' of Jesus described in the Urantia Text are presented as they were elicited within the context of dialogue while he "passed by" . The focus is upon a brief scene description followed by the dialogue including questions and answers that are referenced in an index of topics sure to be of interest to those reflecting upon the
purpose of life.