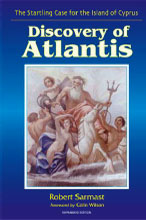 Discovery of Atlantis: The Startling Case for the Island of Cyprus


by Robert Sarmast
Foreword by Colin Wilson


ISBN - 0977932605
Pubdate - June 2006
USD Price - $15.95

The author's correlations with world mythology constitute an exciting breakthrough in the study of ancient myth. In particular, Sarmast shows links to the story of Eden and to myths of the "pure land" in ancient cultures the world over. He provides a new and unprecedented connection back to
Atlantis as the original source and font of these legends.

Sarmast lends new credibility to Plato's account of Atlantis. Crucial here is the recent scientific proof of a catastrophic flood of the entire Mediterranean basin due to the destruction of the Gibraltar dam. This accepted fact of natural history substantiates Plato's claim that an epochal flood "swallowed up" the mountainous island of Atlantis. It lends credence to Sarmast's contention that Plato's overall presentation is historically accurate.

For all of its brilliance, the evidence unveiled in Discovery of Atlantis is only the first step in a series of discoveries to come. The next task is to actually explore this small strip of the Cyprus Arc with submersible equipment to verify the existence of archeological evidence of the sunken civilization.

Reviews
"It may be the answer generations of experts on the ancient world have been looking for."
The Sunday Telegraph, London
"I have virtually no doubt that Robert Sarmast's conclusion that Plato's Atlantis was situated in the south part of the island of Cyprus, and now lies under the sea, is correct."
Colin Wilson
"Did Atlantis ever exist? The answer to that is emphatically yes, if you ask Robert Sarmast."
BBC World Service, London
"Atlantis may have been found."
more....