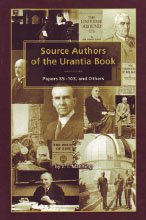 Source Authors of the Urantia Book: Papers 85-103 and Others

by J.T. Manning

ISBN - 978-0966670530
Pubdate - June 2002
USD Price - $24.95

Scholarly reference work presents biographies and bibliographies for authors (as identified by Matthew Block) of human source materials used in papers 85-103 'and Others' of The Urantia Book. Source Authors is a companion volume to Matthew Block's forthcoming book The Urantia Book and It's Sources.

First Sentence

John Baillie was born March 26, 1886, in Gairloch, a remote, Gaelic speaking fishing village in the northwest Scottish Highlands where Celtic and Calvinistic Presbyterian influences were strong.