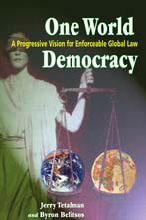 One World Democracy: A Progressive Vision for Enforceable Global Law

by Jerry Tetalman and Byron Belitsos

ISBN - 978-1579830175
Pubdate - June 2005
USD Price - $16.00

One World Democracy presents the only viable long-term solution to today's most urgent global problems: democratic world government and the rule of enforceable global law—a federation of all nations.


After centuries of warfare, Europe has accomplished just such a transformation by outlawing war between the member states of the European Union. This book shows how to do the same thing at the global level through implementing the only time tested solution to violence and injustice—law and democratic government.

Humanity has a sovereign right to govern itself; read this book to find out how we can create a new social contract for the entire planet.

Reviews
"All who recognize that law is better than war will be enlightened and inspired by the authors' clear articulation of what is needed to move humankind toward a more democratic world order."—Benjamin B. Ferencz - Prosecutor at the Nuremberg war crimes trials after WWII, renowned legal scholar, and coauthor of Planethood
(see www.benferencz.org)

"One World Democracy is required reading for today's visionary political leaders and progressive activists. One day this book will be widely-appreciated, for the future will inevitably bring its vision to fruition." — Tad Daley, J.D., Ph.D.- Former Issues Director, Dennis Kucinich for President, National Policy Board, Progressive Democrats of America
"In the tradition of speaking truth to power, the authors have written a true and courageous book."—Joseph P. Baratta, Ph.D., Author of The Politics of World Federation