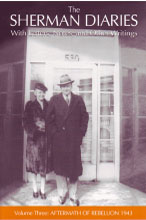 The Sherman Diaries, v.3: Aftermath of Rebellion, 1943

by Saskia Raevouri and Matthew Block

ISBN - 978-0966670574
Pubdate - November 2003
USD Price - $19.95

This volume, Aftermath of Rebellion 1943, documents a full year of Urantia-related activity as witnessed by Harold and Martha Sherman and described in their diaries and letters. During this year the Shermans continue to attend the weekly Forum meetings almost without fail and to record their recollections soon afterward. Feeling unjustly blamed by Dr. Sadler for the so-called rebellion the previous autumn, they share their frustrations with their few friends in the Forum, and confide their growing doubts about the Doctors trustworthiness as custodian of the Urantia papers. Their closest confidante remains Harry J. Loose, now in failing health but still providing advice and instruction through long, frequent letters. The year culminates with Looses death, which Harold and Martha perceive as opening a new era in their lives. 1943 is also a busy year for Harold career-wise, as he continues his pursuits as author, playwright, and screenwriter and becomes host of his own radio program. This volume also contains approximately 50 pages of parallels by Matthew Block between a midwayer message received at the annual picnic and Emory Reves' 1942 book, A Democratic Manifesto.